Arkansas Department of Education
Division of Elementary and Secondary Education
ESSER Transparency Dashboard
Overview
The ESSER funding dashboard provides the public an opportunity to access information about how much of the funds have been used so far to improve student learning, address lost learning opportunities, support students' mental health and wellbeing, and more.
The dashboard shows spending under all three rounds of ESSER funding – through the CARES Act in May 2020, the Coronavirus Response and Relief Supplemental Appropriations Act in January 2021, and the American Rescue Plan in March 2021.
There are two (2) levels of Dashboard:
By ESSER Program
By ESSER Category
For more information, please visit the ESSER Funding site.
ESSER Recovery Funding Timeline At-A-Glance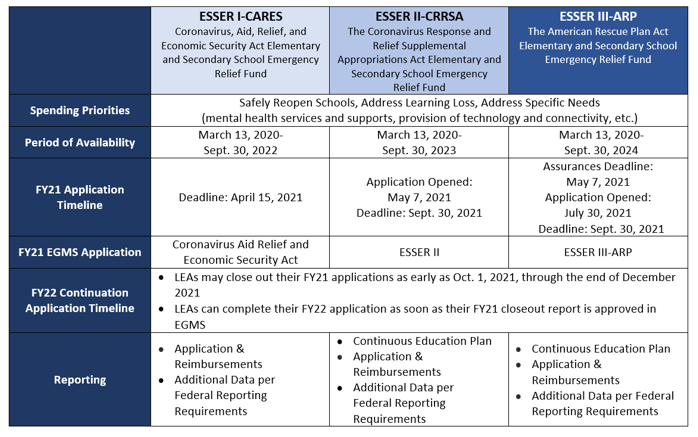 Information Technology (IT) and Information Systems Involved
The award and expense information system are pulled from ADE's Financial district data warehouse which is based on IBM Cognos Analytics platform. The financial office performs the regular data cleansing and formatting of the files and dumps them into SQL server database (See below file format) for us in aggregated form. This structure forms the back end of the dashboard. The data is updated once a month. The transactional accounting platform we use is eFinancePLUS. Arkansas is fortunate and planned over the years to ensure we have a uniform financial and student management system in the form of eFinancePLUS and eSchoolPLUS respectively. This makes our IT lives much easier and helps us build agile and scalable education information system quite seamlessly and quickly.
The entire work is handled by in-house ADE Office of Information Technology Staff. We use IBM Cognos Analytics 11 on the financial district data warehouse end and then MSFT Power BI Pro on the front-end for the ESSER Dashboard display.
| Esser ID | Category | LEA | LEAName | Allocation | Student Support | Technology | Systemic Procedures | Food Security | Facilities | Total Expense | Remaining | LastUpdatedDate |
| --- | --- | --- | --- | --- | --- | --- | --- | --- | --- | --- | --- | --- |